CFL vs MDFL ALL STAR GAME HIGHLIGHTS
November 14, 2015
The conditions were perfect for the first Myrtle Beach Bowl to be played, a clear night with a mild breeze and just a bit of a chill in the air. The Mason Dixon Football League (MDFL) All Stars and the Central Carolina Football League (CCFL) All Stars took the field in Myrtle Beach, South Carolina on Saturday, November 14th. The CCFL won the game by a score of 25 to 10.
The 1st quarter had only one score, a 31 yard field goal by Chris Novak of the MDFL's Baltimore Broncos. The MDFL scored early in the 2nd quarter with QB Kevin Ford of the Arbutus Big Red completing a 4 yard touchdown pass to Thomas Speller of the Southern VA Raiders.
The CCFL responded with 2 touchdowns during the balance of the 2nd quarter. First score coming on a 64 yard pass play from QB Darius Thomas of the Charlotte Colts to WR Albert Bryant also of the Colts. With 52 seconds left in the first half, QB Dominique Fitzgerald of the Triad Outsiders completed an 18 yard touchdown pass to TE Malcolm Kincaid of the Catawba Hornets.
Half time score: CCFL All Stars 13 MDFL All Stars 10
The second half had 2 touchdowns for the CCFL. They scored on their first possession with Davon Gardner of the Catawba Hornets scoring on an 11 yard touchdown run. The final score came on a touchdown pass from QB Fitzgerald to Chris Davis of the Carolina Hawks.
Final Score CCFL All Stars 25 MDFL All Stars 10
MYRTLE BEACH BOWL ALL STAR GAME MVP'S
Darius Thomas QB CCFL Charlotte Colts
Dominique Fitzgerald QB CCFL Triad Outsiders
Azell Harshaw S CCFL Catawba Hornets
Dominque Prescott KR MDFL Palmetto Hurricanes
Andre McGloone QB MDFL Virginia Crusaders
****************************************************************************************************
THE 2015 "NATIONALS"
For decades now, semi-pro football has been crowning "national champions," however the only true National Championship is awarded on the field, playing the best teams in playoffs against each other. The USFA has been operating regional tournaments pairing the best teams in an area for 25 years. For several years now, the USFA has invited the winners of each of the regional tournaments to play in National Bowl Weekend in Florida, in January. The premiere game in semi-pro football is the highlight of the weekend, featuring the official USFA National Championship game.
Does your team aspire to win the National Championship? Enter one of the USFA Regional Tournaments at the end of your league play and see if your team can beat the best.
**************************************************************
2015 USFA REGIONAL TOURNAMENTS 
USFA MidWest
Columbus (OH) Fire 46
Racine (WI) Raiders 35
2015 USFA MidStates
Detroit Ravens 27
Michigan Hurricanes 12
Detroit Ravens 28
West Michigan Force 17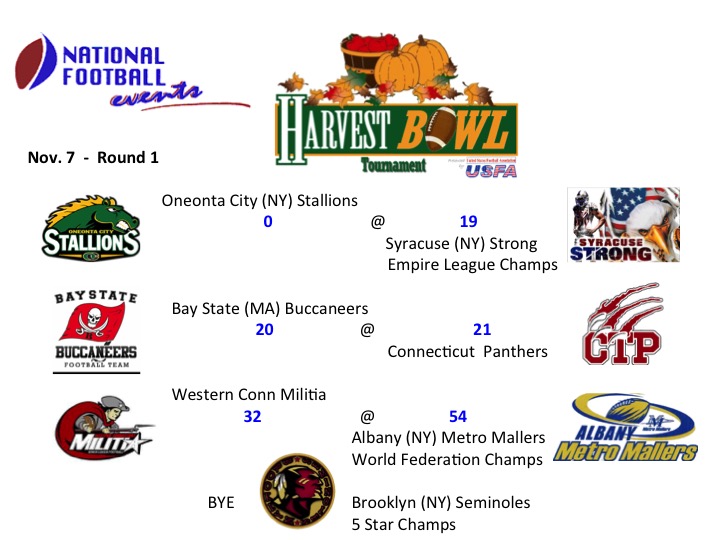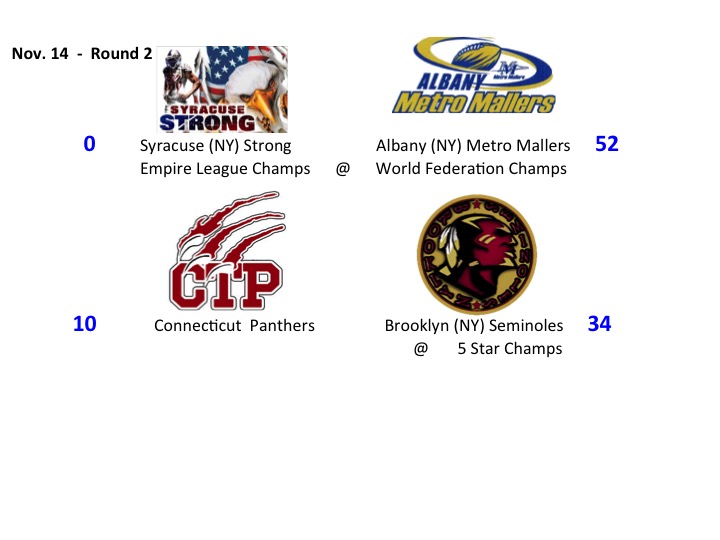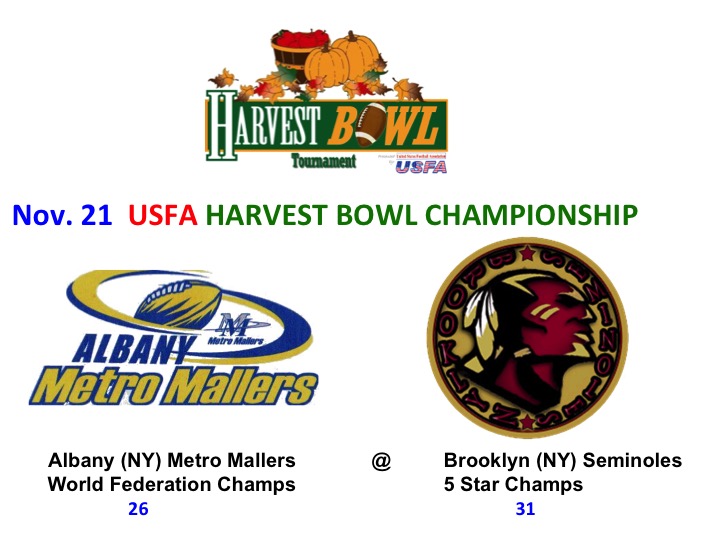 2015 NATIONAL FOOTBALL EVENTS COACHES POLL 
POLL # 7 Nov. 25
| | | | |
| --- | --- | --- | --- |
| | National Top Thirty | Nov. 25 | |
| | Team | League | Record |
| 1 | Brooklyn (NY) Seminoles | Five Star | 17-0 |
| 2 | St Paul (MN) Pioneers | Northern Elite | 13-0 |
| 3 | Muskegon (MI) Mustangs | Great Lakes | 11-0 |
| 4 | Albany Metro Mallers | World | 12-1 |
| 5 | Ohio Golden Knights | Premier Amateur | 13-2 |
| 6 | Nashville (TN) Storm | Gridiron Development | 10-0 |
| 7 | So California Coyotes | LaBelle | 10-1 |
| 8 | | Central Carolina | 14-1 |
| 9 | Inglewood (CA) Blackhawks | La Belle | 14-2 |
| 10 | DMV (DC,MD,VA) Elite | Mason Dixon | 11-1 |
| 11 | California Raiders | National Development | 11-0 |
| 12 | Columbus (OH) Fire | Premier Amateur | 11-1 |
| 13 | Worcester Mass Fury | Eastern | 12-2 |
| 14 | Lincoln-Way (IL) Patriots | Mid States | 11-2 |
| 15 | Colorado Greyhawks | Colorado | 11-0 |
| 16 | Detroit (MI) Ravens | Great Lakes | 12-1 |
| 17 | CT Panthers | New England | 13-3 |
| 18 | New York Rebels | Five Star | 12-1 |
| 19 | Midwest (MO) Titans | Midwest | 15-0 |
| 20 | Virginia Crusaders | Mason Dixon | 9-1 |
| 21 | Racine (WI) Raiders | Mid States | 12-3 |
| 22 | Maryland Blackhawks | True | 10-1 |
| 23 | Boston (MA) Bandits | New England | 10-4 |
| 24 | Monroe Co (NY) Sting | NE Alliance | 12-1 |
| 25 | Arbutus (MD) Big Red | Mason Dixon | 10-1-1 |
| 26 | Midwest (MI) Chargers | Great Midwest | 11-1 |
| 27 | Prince Wm (MD) Monarchs | True | 10-1 |
| 28 | Denco (CO) Spades | American Development | 11-2 |
| 29 | Toledo (OH) Thunder | Minor Alliance | 10-0 |
| 30 | Portsmouth (OH) Warriors | Blue Collar | 12-1 |
| | | | |
| | Northeast Region | | |
| | Team | League | Record |
| 1 | Brooklyn (NY) Seminoles | Five Star | 17-0 |
| 2 | Albany Metro Mallers | World | 12-1 |
| 3 | Worcester Mass Fury | Eastern | 12-2 |
| 4 | CT Panthers | New England | 12-3 |
| 5 | New York Rebels | Five Star | 12-1 |
| 6 | Boston (MA) Bandits | New England | 10-4 |
| 7 | Monroe Co (NY) Sting | NE Alliance | 12-1 |
| 8 | Taunton (MA) Gladiators | Eastern | 10-3 |
| 9 | West CT Militia | New England | 13-3 |
| 10 | New York Predators | Major | 11-3 |
| 11 | Troy's (NY) Fighting Irish | NE Alliance | 10-1 |
| 12 | New Jersey Wolves | Major | 9-5 |
| 13 | So Maine Raging Bulls | New England | 10-2 |
| 14 | Syracuse (NY) Strong | Empire | 9-4 |
| | | | |
| | Midwest Region | | |
| | Team | League | Record |
| 1 | Muskegon (MI) Mustangs | Great Lakes | 11-0 |
| 2 | Ohio Golden Knights | Premier Amateur | 13-2 |
| 3 | Columbus (OH) Fire | Premier Amateur | 11-1 |
| 4 | Lincoln-Way (IL) Patriots | Mid States | 11-2 |
| 5 | Detroit (MI) Ravens | Great Lakes | 12-1 |
| 6 | Racine (WI) Raiders | Mid States | 12-3 |
| 7 | Toledo (OH) Thunder | Minor Alliance | 10-0 |
| 8 | Portsmouth (OH) Warriors | Blue Collar | 12-1 |
| 9 | Illinois Cowboys | Royal | 14-2 |
| 10 | Chicago (IL) Mustangs | Royal | 11-1 |
| 11 | Chicago (IL) Chaos | Gridiron | 11-1 |
| 12 | Rockton (IL) Rush | Mid States | 11-2 |
| 13 | Chicago (IL) Cardinals | Great Midwest | 11-2 |
| 14 | Michigan Lightning | Minor Alliance | 11-2 |
| | | | |
| | Central Region | | |
| | Team | League | Record |
| 1 | St Paul (MN) Pioneers | Northern Elite | 13-0 |
| 2 | Nashville (TN) Storm | Gridiron Development | 10-0 |
| 3 | Midwest (MO) Titans | Midwest | 15-0 |
| 4 | Midwest (MO) Chargers | Great Midwest | 11-1 |
| 5 | Kansas City (MO) Bulldogs | Midwest Alliance | 10-1 |
| 6 | Kentucky Xtreme | Minor Alliance | 9-2 |
| 7 | Mid America (MN) Fighting Orioles | Northern States | 9-1 |
| 8 | Des Moines (IA) Blaze | Midwest Alliance | 8-2 |
| 9 | Oklahoma Thunder | Gridiron Development | 7-2 |
| 10 | Oklahoma City Bounty Hunters | Gridiron Development | 7-2 |
| 11 | Derby City (KY) Thunder | Kentucky | 8-2 |
| 12 | Kansas City (KS) Panthers | Midwest | 9-3 |
| | | | |
| | Southeast Region | | |
| | Team | League | Record |
| 1 | Charlotte (NC) Colts | Central Carolina | 14-1 |
| 2 | DMV (DC,MD,VA) Elite | Mason Dixon | 11-1 |
| 3 | Virginia Crusaders | Mason Dixon | 9-1 |
| 4 | Maryland Blackhawks | True | 10-1 |
| 5 | Arbutus (MD) Big Red | Mason Dixon | 10-1-1 |
| 6 | Prince Wm (MD) Monarchs | True | 10-1 |
| 7 | Henry Co (GA) Horsemen | Champions | 9-0 |
| 8 | Georgia Cardinals | ESx3 | 9-1 |
| 9 | West Virginia Lightning | Blue Collar | 11-2 |
| 10 | Greenvile (SC) Seminoles | Central Carolina | 9-4 |
| 11 | Crescent City (LA) Kings | Gridiron Development | 9-2 |
| 12 | Carolina (SC) Dynasty | Gridiron Development | 8-1 |
| 13 | Georgia Chargers | ESx3 | 9-2 |
| 14 | Catawba (NC) Hornets | Central Carolina | 8-3-1 |
| | | | |
| | West Region | | |
| | Team | League | Record |
| 1 | So California Coyotes | LaBelle | 10-1 |
| 2 | Inglewood Blackhawks | LaBelle | 14-2 |
| 3 | California Raiders | National Development | 11-0 |
| 4 | Colorado Greyhawks | Colorado | 11-0 |
| 5 | Denco (CO) Spades | American Development | 11-2 |
| 6 | Vegas (NV) Trojans | National Development | 9-2 |
| 7 | Hollywood (CA) Stars | Dev Professional | 10-3 |
| 8 | Puyallup (WA) Nation Kings | W Washington | 9-5 |
| 9 | Pierce Co (WA) Bengals | W Washington | 9-2 |
| 10 | Vegas (NV) Hawks | PAC West | 8-0 |

Westmont, IL 60559-0546P.O.Box 546NATIONAL FOOTBALL EVENTS
CONTACTS:
Phone: 630-910-1818 Fax: 630-515-1885
Jim Nugent, President JimNugent15@sbcglobal.net
Cheri Kardas, Director nfe@dls.net
Sean McNamara, Director casinobowl@nationalfootballevents.com
John Kennedy, Director USFA@nationalfootballevents.com
Dale Glossenger, Director CoachG@nationalfootballevents.com