2013 USFA REGIONAL TOURNAMENTS
USFA Harvest Bowl
Nov. 23  Championship
Brooklyn (NY) Seminoles          41
Albany (NY) Metro Mallers      32
Nov. 16
Brooklyn (NY) Seminoles     35
New England (MA) Soul         7
Nov. 9 (* Non Tournament Game)
Albany (NY) Metro Mallers      34
Racine (WI) Raiders                  24
Nov. 2
Albany (NY) Metro Mallers      37
Pioneer Valley (MA) Knights   14
Buffalo (NY) Gladiators                    36
Tri County (OH) Viking Warriors  12
Oct. 26
Buffalo (NY) Gladiators     22
Lockport (NY) Rampage   10
USFA Southeast
Nov. 16  Championship
Catawba (NC) Hornets                    30
Carolina (NC) Thundering Herd  8
Nov. 2
Catawba (NC) Hornets     36
Asheville (NC) Grizzlies   14
USFA Midwest
Oct. 19
Racine (WI) Raiders           43
Illiois Cowboys                       0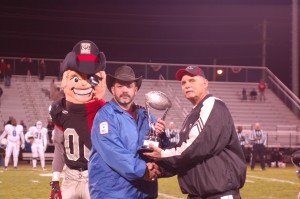 USFA Mid States – East

Oct. 19 Championship
Capital City (MI) Stealth           36
Grand Rapids (MI) Thunder   26
Oct. 12
Capital City (MI) Stealth          6
Michigan Renegades                 0
USFA Mid States – West

Oct. 19 Championship
Chicago Cardinals                  16
Rockford (IL) Rams                0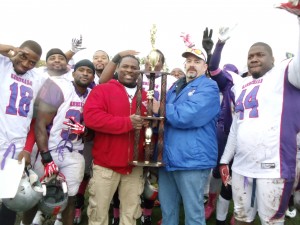 Sept. 28
Rockford (IL) Rams                    35
Milwaukee (WI) Hurricanes   12
Oct. 5
Chicago Cardinals                   26
So. Lakes (WI) Blue Devils     0
2013 Summer/Fall Season
Poll # 10
NATIONAL TOP 30
Nov. 20
Team
League
Record
1
Oklahoma Thunder
Gridiron Dev
13-0
2
Central Penn Piranha
Regional
16-1
3
Ohio Legends
Heartland
16-0
4
Catawba (NC) Hornets
Cent Carolina
14-0
5
Albany (NY) Metro Mallers
SPF League
12-1
6
Virginia Crusaders
Mason Dixon
11-0
7
North Co. (CA) Cobras
LaBelle
15-2
8
Des Moines (IA) Blaze
Midwest Alliance
12-0
9
Detroit (MI) Seminoles
Great Lakes
11-0
10
Connecticut Panthers
New England
13-1
11
Inglewood (CA) Blackhawks
LaBelle
13-2
12
Brooklyn (NY) Seminoles
Five Star
13-2
13
Columbus Fire
Heartland
13-1
14
Racine Raiders
Mid States
11-2
15
California Raiders
United Alliance
14-2
16
Nassau (NY) Punishers
Five Star
13-1
17
Prince Wm (VA) Monarchs
True
11-1
18
Ohio Golden Knights
Ohio
15-0
19
Desert Chiefs
Pacific Coast
11-0
20
Maine Sabers
New England
12-1
21
So Carolina Venom
Gridiron Dev
11-1
22
Hollywood (CA) Stars
Cal Football Assoc
12-2
23
Muskegon (MI) Mustangs
Great Lakes
13-2
24
Indianapolis (IN) Tornados
Gridiron Dev
10-1
25
Worchester Mass Fury
Eastern
11-1
26
Minnesota Sting
Midwest Premier
11-0
27
New Jersey Wolves
Major
11-1
28
Chicago (IL) Cardinals
Great Midwest
13-2
29
Nashville Storm
Nat'l FB Assoc
8-0
30
Arbutus Big Red
Mason Dixon
10-3
Northeast  Region
Team
League
Record
1
Central Penn Piranha
Regional
16-1
2
Albany (NY) Metro Mallers
SPF League
12-1
3
Connecticut Panthers
New England
13-1
4
Brooklyn (NY) Seminoles
Five Star
13-2
5
Nassau (NY) Punishers
Five Star
13-1
6
Maine Sabers
New England
12-1
7
Worchester Mass Fury
Eastern
11-1
8
New Jersey Wolves
Major
11-2
9
West Connecticut Militia
New England
14-2
10
NJ Bronos
Atlantic Coast
9-1
11
NJ Longhorns
Major
10-2
12
So Buffalo (NY) Celtics
SPF League
9-2
13
Syracuse  (NY) Shock
Empire
10-3
14
Pioneer Vally (MA) Knights
New England
13-3
Midwest  Region
Team
League
Record
1
Ohio Legends
Heartland
16-0
2
Detroit (MI) Seminoles
Great Leakes
11-0
3
Racine Raiders
Mid States
13-1
4
Columbus (OH) Fire
Heartland
13-1
5
Ohio Golden Knights
Ohio
15-0
6
Muskegon (MI) Mustangs
Great Midwest
13-2
7
Chicago (IL) Cardinals
Great Midwest
13-2
8
NW Ohio Knights
Crossroads
11-1
9
Rock Co (WI) Rage
Ironman
11-1
10
So MI Timberwolves
Great Lakes
11-2
11
So. Ohio Buckeyes
No. Frontier
13-1
12
Madison (WI) Mustangs
Mid States
8-3
13
Racine Threat
Mid States
9-2
14
Capital City (MI) Stealth
Great Lakes
10-4
Central  Region
Team
League
Record
1
Oklahoma Thunder
Gridiron Dev
13-0
2
Des Moines (IA) Blaze
Midwest Alliance
12-0
3
Indianapolis (IN) Tornados
Gridiron Dev
10-1
4
Minnesota Sting
Midwest Premier
11-0
5
Nashville Storm
Nat'l FB Assoc
8-0
6
Cincinatti (OH) Hawks
No. Frontier
12-1
7
Indiana Generals
Mid States
8-1
8
Derby City (KY) Thunder
Kentucky
8-2
9
Kentucky Wolverines
Kentucky
7-1
10
Kentucky Warriors
No. Frontier
9-2
11
Dallas-Ft Worth (TX) Eagles
World
6-0
12
Nebraska Lawdawgs
United Nat'l
7-2
Southeast  Region
Team
League
Record
1
Catawba (NC) Hornets
Cent Carolina
14-0
2
Virginia Crusaders
Mason Dixon
11-0
3
Prince Wm (MD) Monarchs
True
11-1
4
So Carolina Venom
Gridiron Dev
11-1
5
Arbutus (MD) Big Red
Mason Dixon
10-3
6
Charoltte (NC) Colts
Cent Carolina
13-3
7
Baltimore Broncos
True
11-2
8
Northern Neck Rivermen
Mason Dixon
12-3
9
Tri Co. (NC) Ruff Ryders
Amer Pro Dev
8-0
10
Carolina (NC) Thundering Herd
United FL
8-2
11
Virginia Saints
Atlantic Coast
9-2
12
Alabama Trojans
Hearts of South
8-1
13
Portsmouth Mustangs
Atlantic Coast
9-1
14
Carolina (NC) Eagles
Carolina Elite
6-1-1
West  Region
Team
League
Record
1
North Co. (CA) Cobras
LaBelle
15-2
2
Inglewood Blackhawks
LaBelle
13-2
3
California Raiders
United Alliance
14-2
4
Desert Chiefs
Pacific Coast
11-0
5
Hollywood (CA) Stars
Cal Football Assoc
12-2
6
Colorado Springs Flames
Colorado
9-1
7
Grand Junction (CO) Gladiators
American Development
9-0
8
Cent Coast Seminoles
Pacific Coast
8-3
9
So CA Coyotes
United Alliance
7-3
10
San Diego (CA) Thunder
LaBelle
9-4
CASINO BOWL XVIII   
NFE All-Stars           40
Team Colorado        24
(Full game story & more info at www.casinobowl.net  or click on link on the left)
2013 NATIONAL BOWL WEEKEND
For all the information on this year's bowl games click on "National Bowl Weekend" link on the left.
NFE & USFA TOURNAMENTS
National Football Events & United States Football Association operate several Regional Tournaments.
The winners were then invited to play in a Bowl game during National Bowl Weekend in January in Florida.
This will be the 24th year of tournaments and the USFA National Championship.
* NOTE: All NFE and USFA champions are crowned on the field where the games are played.
Congratulations

2012 USFA AAA National Champions

Western Mass Warriors
and
Inglewood (CA) Blackhawks

2012 USFA AA National Champions

Tri State (OH) Sharks
Check out all of the 2013 National Bowl Weekend games:
www.nationalbowlweekend.com
**************************************************************
CONTACTS:
National Football Events

P.O.Box 546

Westmont, IL  60559-0546
Phone: 630-910-1818               Fax:     630-515-1885
Jim Nugent, President               JimNugent15@sbcglobal.net
Cheri Kardas, Director              nfe@dls.net
Sean McNamara, Director        casinobowl@nationalfootballevents.com
John Kennedy, Director           USFA@nationalfootballevents.com
Dale Glossenger, Director        CoachG@nationalfootballevents.com